APPRO and CERRON E-Newsletter Archives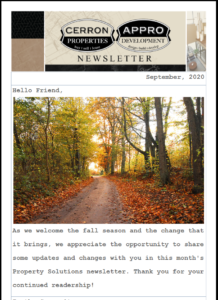 Our company has been publishing a monthly e-newsletter for many years and this has become our way of sharing stories about our newest clients and their projects and/or properties, as well as information about our team and our services. We always end the issue with a bit of good news – maybe a fun link, story about our local community, or something to just make you laugh (we call can certainly benefit from a good dose of humor!).  We strive on a daily basis to provide our local community with property solutions for their businesses. We hope that this monthly newsletter allows our readers to learn a little about what we do.
Click HERE for the latest issue.
---
Not a Subscriber yet? No worries…simply fill in your email address below to get signed up for future newsletters.