Last mile logistics is a hot topic in today's retail environment. We have seen the decline in the standard retail storefront over the past few years, with many of these storefronts have been replaced by Amazon Prime trucks zipping across the freeways, fulfilling orders placed online for items which used to be purchased at the neighborhood store. So, what do these changes in consumer habits, and therefore changes in supply chain logistics, mean for builders, commercial real estate practitioners, investors, and owner/operators? We offer a definition, considerations, a case study and additional resources to consult for logistics site considerations.
Definition of Last Mile Logistics
So, just what does the term "Last Mile Logistics" mean? According to Business Insider, "In a product's journey from warehouse to customer doorstep, the 'last mile' of delivery is the final step of the process – the point at which the package finally arrives at the buyer's door."
E-commerce is driving the demand for these last mile logistic sites, and there doesn't appear to be an end to the demand in the foreseeable future.
"Businesses have begun to develop new technologies and experimental supply chain models to increase parcel volume, expedite deliveries, and delight customers – all while trying to cut costs." – Business Insider
E-commerce is growing at a steady rate of 15% per year. Current logistics portfolio for current retail is only 9.6% of the market – there is a lot of room to grow! Enter Industrial Warehousing.
What type of building is ideal?
According to information presented at this year's 2018 Investment Real Estate Symposium, held on Tuesday, October 2nd, 2018, the following building features are ideal, if not necessary, for successful logistics operations:
Clear heights of 40'
500,000 SF facility sizing
Mezzanines
Food Related / Cold Storage
Infrastructure for automation
Rapid delivery systems
During this symposium, the current state of the logistics industry was discussed. Currently, the availability of buildings with each of these features, is significantly down. Therefore, rental rates have risen in response to the current supply (or lack thereof). As a result, many logistics companies are turning to new construction to build what is needed for modern delivery systems. "The growing trend is for organizations to build or take advantage of urban warehouse space and have easy access to products for fast delivery," according to SupplyChain 24/7.com. If new construction is your best solution, as an owner/operator, there are many considerations as you take that next step.
What are the ideal distribution center considerations?
According to AreaDevelopment.com, you need to ask the following questions when considering your next distribution center location:
Where should last-mile considerations fit into your site scenario?
Is there such a thing as an ideal number of last-mile DC's?
Are there ideal last-mile DC venues?
Exactly how close should a company's last-mile facilities be to its customers?
How important are traffic patterns?
Each business is unique as are the consumers they serve. As a result, a site that may work for one business, may not for another. As a result, our team created a case study on one site to illustrate the various considerations in the selection of a distribution center site.
Case Study: Rosemount Business Park – West, Rosemount, Minnesota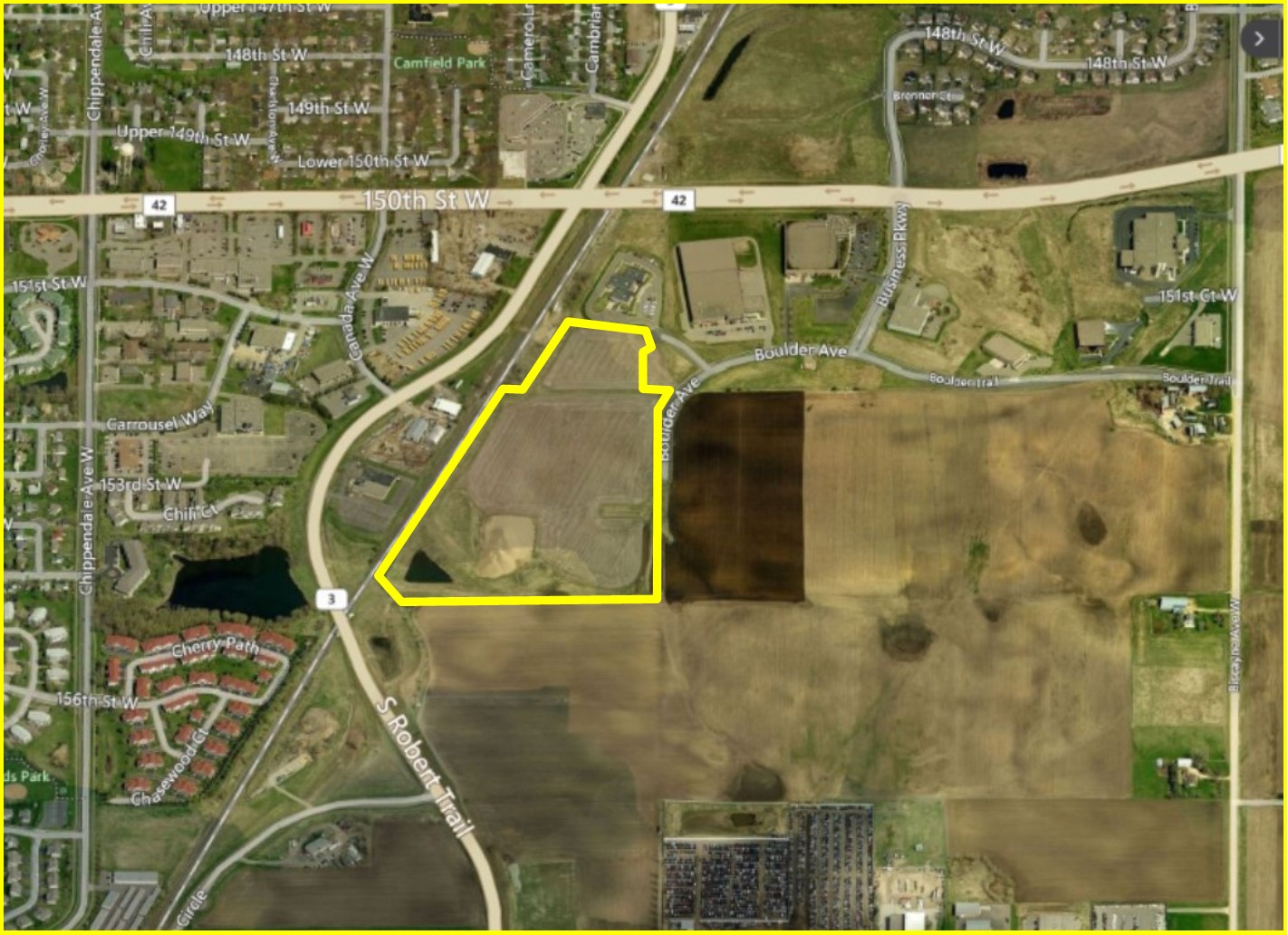 The Rosemount Business Park – West site is located at the southeast corner of Highway 3 and County Road 42 in Rosemount, Minnesota. It is situated on the west side of the established business park, which is already home to This is a +/- 35 acre site is zoned BP – Business Park District which allows for office warehouse, warehousing, wholesaling and distribution facilities. Additionally, the site offers the following features which would be of interest to a site selector for a distribution facility:
Transportation
Rail – This site is located on a Progressive (PGR) short line rail line (Class III).
Highway – in addition to being located at the intersection of Hwy 3 and CR-42, the site is located approximately seven (7) miles west of US Highway 52 (which runs north / south between St. Paul and Rochester) and is accessible to Interstate 35 via County Road 46.
Airport – The site is located approximately 15 miles south of the Minneapolis-St. Paul International Airport (MSP)
Demographics / Workforce
(Data Source: City of Rosemount, Economic Development, Kim Lindquist, via this LINK)
Businesses can obtain customized training programs with Dakota County Technical College (DCTC), a part of the Minnesota State college system.
Approximately 80% of Rosemount's population of almost 23,000 is in the workforce.
Available housing for a growing workforce is growing at an average rate of 73 new units per year, with ample commercial options (250+) for residents, an excellent education system, and recreational areas.
Utilities
Natural Gas – MERC, MN Energy Resources
Electric – Xcel
Fiber is available to the site
Water/Sewer are both available to the site
Economic Incentives (via State of Minnesota)
Many economic incentives exist, but you will want to consider which incentives (if any) make sense for your business. Tax Increment Financing (TIF), and Tax Abatement programs exist, but may require a specific number of new hires within an allotted timeframe. As more automation occurs, a company may want to weigh the pros and cons of tapping into these incentives.
Affordable land pricing – currently listed at $3.75/SF, this is an affordable option for a warehouse / distribution center, ideal for cold storage, logistics, and more.
Build-to-Suit (BTS) – This site is currently divisible to a customer's needs and the owners are offering a build to suit option on this site.
Design/Build – APPRO Development is a trusted resource to assist with all design build scenarios (including working with an owner through city process). Our expert team has been working on projects like this for more than 30 years. A variety of options exist for this site (including dividing the lot).
Learn more about this site at: Rosemount Business Park, Rosemount, MN
As you can see, there are many features of a site to consider. We hope that this example helps you in your search process. If you would like additional information on the site referenced in this Case Study, or links to any of the articles referenced, please see the resources section below, or feel free to contact our team with any additional questions you may have.
{{cta('22860bcb-db67-4da2-bfb9-de331698f679')}} {{cta('b8d7d37a-8756-4ec5-a184-c5bfd97dc86a')}}
Resources
APPRO Development, Inc. has been building office warehouse, industrial and a variety of other commercial buildings throughout the Midwest since 1987.
Business Insider, "The Challenges of last mile logistics & delivery technology solutions" Shelagh Dolan, May 10, 2018.
CERRON Commercial Properties, LLC, founded in 2002, is able to provide comprehensive commercial real estate solutions including site selection, site feasibility studies, sales and leasing, among many other services available.
State of Minnesota Incentive Programs