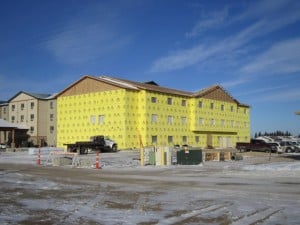 Appro Development is adding an additional 27,000 S.F. to the existing 50,400 S.F. Souris Valley Hotel in Minot, North Dakota
Appro Development has completed all of the framing and roofing on the building and is now working on all the interior plumbing piping, HVAC duct work, electrical rough ins and sprinkler piping. Along with that we are starting on the exterior stone work, siding and EFIS.
The 27, 000 S.F. additions will consist of 47 new hotel rooms to help accommodate with the booming economy in North Dakota. The hotel addition is expected to be completed in early April 2012.
As a General Contractor for the last 20 plus years APPRO Development has remodeled building and have added additions to many office, warehouse and production areas and passed along savings to the building owners. Call us today at APPRO Development if you plan to remodel, build or add on this summer.