Commercial Strip Center Remodel for HCS MedSpa in Medina, MN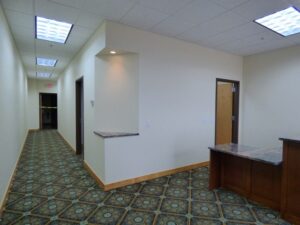 HCS Med Spa Medina Remodel – After photo
HCS MedSpa in Medina, MN is a commercial strip center interior remodel project by APPRO Development. This project is the second commercial project we have completed for this owner. Located in Medina, Minnesota the project consists of the following:
Interior remodel of a single story, 1,300 sq. ft. medical office and restroom located within a strip mall with framing, electrical, HVAC, plumbing, insulation, drywall, interior doors, painting, flooring, cabinetry, and signage.
This clinic remodel project includes many upgraded features – for example, granite counters, flooring, and cherry cabinetry.
Click to learn more about HCS MedSpa by visiting their website.
Special Considerations
Medical clinic environment
Custom signage
Strip Mall Location
Services Provided
General Contractor
Design Build Services
Competitive Bidding
Permit Process Oversight
Want to know more about starting a commercial strip center remodel Project of your own? If financing the project, start with our easy and informative Financing Checklist…