Dental Office Building – New Construction for Immanuel Dental, Farmington, MN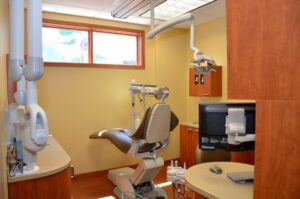 A new, one-story dental office building for a thriving dental clinic, in the heart of the downtown Farmington, MN commercial district. The building was designed to fit into the historic downtown area of the city and was design built to seemlessly integrate into the surroundings of this downtown business community. Building front incorporates brick with cast stone accents. Building sited to fit into the existing available land area while accommodating city link to public parking space and accommodating adjacent neighbors building access. Interior finishes to meet the unique needs of a medical/dental office building, per the owner's specifications.
Special Considerations
Tight construction area constraints in commercial district
Redevelopment of a downtown commercial lot
Coordination with city maintained walkway
Services Provided
Complete Design Build Services
Assistance with site selection and land acquisition
Assistance with obtaining City incentives
To learn more about Immanuel Dental, you may visit their office HERE.
APPRO Development, Inc., has been providing design build services in the midwest for more than 25 years. Contact us today to learn how we can create a property solution to meet your unique needs.
Want to know more about starting a New Dental Office Building (or Medical Building) Project of your own? If financing your project, start with our easy and informative Financing Checklist…