Fireside Hearth and Home: Eagan, MN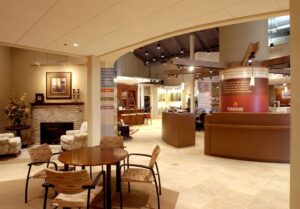 Fireside Hearth and Home consists of a 13,000 sq. ft. retail facility located in Eagan, Minnesota for fireplaces and related products. Our design team worked closely with the retail merchandising team over a period of one and a half years to create a building system/layout that complements their sales approach.
At APPRO Development, we will complete your project on time and on budget by providing complete construction project bidding, scheduling and management alongside all of the resources you need to ensure you are covering all your bases while building your new commercial construction project or remodeling an existing building, Additionally, our team provides detailed timelines so you know upfront when decisions need to be made.
Contact us today to learn why we provide the best commercial building general contraction, project management and custom business remodeling services in Minnesota and throughout the upper Midwest.
Special Considerations
Prototype facility to be replicated throughout the entire country
Detailed cost/benefit analysis of all features
Significant climate issues due to heat output of fireplaces
Services Provided
Site search and acquisition
Platting and redevelopment process
Complete design build package
Architect
General Contractor
Want to know more about starting a new Retail Showroom Construction Project of your own? If financing your project, start with our easy and informative Financing Checklist…