Hotel Addition for Souris Valley Suites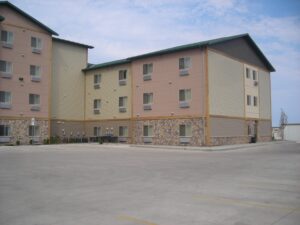 This hotel addition for Souris Valley Suites includes a 47 room hotel addition to an existing 89 room extended stay hotel, Souris Valley Suites, Minot, ND.  Souris Valley Suites is an independent brand name.  Each room is a suite which has a full kitchen and bath.  Hotel expansion features an additional elevator, conference center, and guest laundry.
To view the original hotel construction project, click here.
  Special Considerations
Maximize site area
Winter construction schedule
Full kitchen in each suite includes refrigerator with ice maker, microwave, two burner stove, dishwasher, garbage disposal, and sink
Party walls with STC rating of 58 for quiet units
Panelized wall construction
Flat screen T.V. with cat 5 cable and high speed internet in each suite
Services Provided
Design and Construction Management services with on site representation, planning, and fit up coordination.
Want to know more about starting a New Hotel Addition Project of your own? If financing your project, start with our easy and informative Financing Checklist…