Midwest Construction Project Complete for Jacobson Engineers & Surveyors Building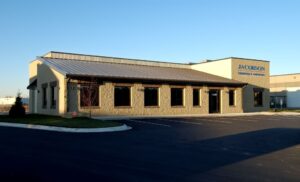 Midwest construction company APPRO Development, completed a new, 4,614 sq. ft. office building for a growing surveying and engineering group – Jacobson Engineers & Surveyors.  This single-story building with vaulted ceilings in the open office area is located in Dakota County's community of Lakeville, MN.  Exterior walls are decorative concrete block with an integral color.  Roof structure consists of a metal frame and steel bar joist, painted and left exposed to create an open airy feel.
Interested in learning more about Jacobson Engineers & Surveyors? View their website HERE.
APPRO Development and our team of commercial construction experts would be happy to answer any questions you may have about the commercial building process. Please feel free to contact us to discuss your ideas.
Special Considerations
Open office plan with an emphasis on outside light
Future expansion of the floor plan and expansion of the building on-site
Architectural program to stand out from surrounding building wile incorporation similar materials
Services Provided
Complete design/build package
Assisted with obtaining financing and provided cost analysis for rent/ownership comparison
Want to know more about starting a midwest construction project of your own? Start with understanding the financing process…