Minnesota Eye Clinic Completed: McDonald Eye Care
A new Minnesota Eye Clinic is now completed for McDonald Eye Care in Lakeville, MN.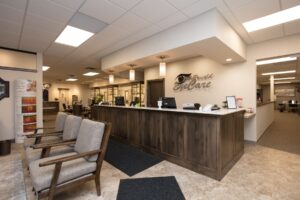 Project Description
This single story medical office building was constructed for a Minnesota Eye Clinic. The completed professional office building includes 6,772 SF of clinic space with an additional 2,902 SF of basement space.
Special Considerations
Demo existing facility
Work with City on road construction and new utility connections
Construction staging for an existing business
Services provided by APPRO Development, Inc.
APPRO assisted the owner with a complete design-build package on this project. Our architectural team was responsible for the complete design of the new facility.
Testimonial
Learn more about this owner's experience, shared during their ribbon cutting celebration…
Video clip courtesy of City of Lakeville, 2017.
---
Interested in learning more about designing a new clinic for your medical practice? Contact our design team today to learn more about our process.