Multi Tenant Office Warehouse Project at Cedar 70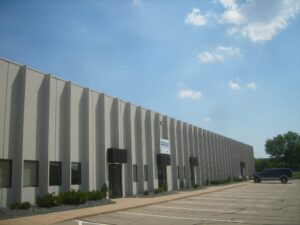 This multi tenant office warehouse project included the design and building of an 92,745 Sq. Ft. office warehouse comprised of four units for market.  The buildings were constructed in phases and include bay sizes from 2,600 sq. ft. to 4,800 sq. ft.  Clear heights in the buildings vary with some areas designed for higher product storage in mind.  All tenant spaces have front door entry and auto parking with truck access regulated to the rear of the buildings sharing drive and maneuvering space.
APPRO Development's sister company CERRON Commercial Properties also has spaces available For Lease in this multi tenant office/warehouse building.
Feel free to contact our office for more information on this or any of our Completed Projects.
Curious to know more about building in the City of Lakeville? Or, more about Zoning Map for the City of Lakeville? Click on either of these links for more information on building in Lakeville, MN.
Special Considerations
Phased construction
Site designed around major gas line utility easement
Tenant driven design for two of the buildings
Dock and drive-in door access
Shared dock access drive areas
Services Provided
General Contractor
Design-Build in Phases
Want to know more about starting Multi-Tenant Office Warehouse Project of your own? If financing your project, start with our easy and informative Financing Checklist…