Lakeville New Addition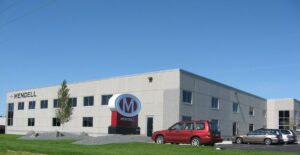 This 2008 project was for a 12,780 sq. ft. new addition to an existing 19,820 sq. ft. precision machining and manufacturing shop  for Mendell Machine, originally built by APPRO Development in 2000.  The 12,780 sq. ft. addition brought their total facility up to 32,600 sq. ft.  The project included expanding the manufacturing and warehouse space, adding a 3,240 sq. ft. storage mezzanine with restroom, providing new and larger spaces for the conference room, lunchroom, and employee locker room and adding additional offices.  The project also involved remodeling of existing spaces including the engineering office and customer entrance area and reception desk.
Another addition began in 2015.
Special Considerations
Clear span roof structure over the manufacturing and warehouse spaces with clear heights under roof bar joists averaging 17'-0"
Clerestory windows providing an abundance of natural light at manufacturing and warehouse spaces
Epoxy floor coating system specifically developed for manufacturing facilities installed throughout the manufacturing areas.
New conference room with custom lighting including a suspended ceiling cloud, custom built in cabinets with granite countertops and custom designed glass entrance door
Decorative flake floor coating system at new lunchroom and locker room that provides durability against foot traffic from employees with metal shavings on their shoes and can be cleaned with the same industrial floor scrubber used on the warehouse floor
New exterior landscaping and custom designed monument sign
Finish selections that involved a combination of matching existing finishes and integrating new finishes
Services Provided
Complete design build package.
Want to know more about starting a New Addition Project of your own? If financing your project, start with our easy and informative Financing Checklist…