APPRO Completes Precast Concrete Building for Atlas Specialized Transport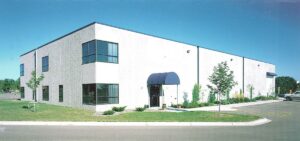 A new 15,000 square foot precast concrete facility consisting of office/warehouse layout and located in Lakeville, Minnesota is now complete for a transport, warehousing company. Building construction consists of a concrete slab on grade floor, precast concrete wall panels, structural steel frame and a built-up roof system. Semi-tractor trailer parking lot.
See how the team at APPRO Development, Inc. can create the ideal property solution for you by letting us know more about your next new building, expansion or remodel project HERE.
Special Considerations
Warehouse equipped with a 20 ton bridge crane
Building site abuts a designated trout stream
2nd story office space leased to compatible business
Services Provided
Complete design build package
Assistance with site selection
Investigation of tax increment financing
Master plan
Application and assistance in obtaining Conditional Use Permit for building in a shore land overlay district
Architect
General Contractor
Want to know more about starting a new Precast Concrete Building Project of your own? If financing your project, start with our easy and informative Financing Checklist…