Redevelopment Service Center Project for Grandview Tire & Auto: Edina, MN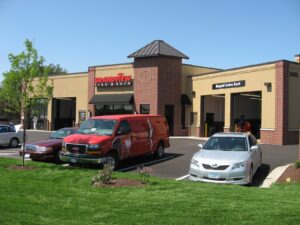 APPRO Development completed a redevelopment service center for project this well established automotive repair company in Edina, Minnesota. The building features 7 repair bays, 2 oil change bays, an automated car wash bay, office an retail area. The site was redeveloped for this facility by demolishing the existing structure.  The building, access points, stacking spaces and signage were all designed to meet stringent city standards. Energy efficient design elements included white roofing material.
Grandview Tire and Auto has two locations in Edina. More information can be found on their website, by clicking on the link HERE.
APPRO Development continues to meet the goals and expectations of each of its clients throughout the Twin Cities region. Looking for assistance with the design build process? View our services to learn more about what our team can do to make your next project a seamless success!
Special Considerations
Conditional Use Permit approval through City process
Redevelopment of an existing gas station site
Environmental testing of onsite soils
Environmental remediation
Special architectural design standards for the site based on City Zoning
In floor heat system utilizing recycled oil
Services Provided
Complete design/build role
 Storm water site design to meet nine mile creek watershed district standards
 Coordination with equipment suppliers to ensure equipment installation process
Want to know more about starting a Redevelopment Project of your own? If financing your project, start with our easy and informative Financing Checklist…