Remodel Project Daycare Complete for Anna's Bananas, Northfield, MN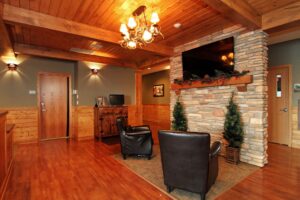 A remodel project daycare is now complete for a 5,708 sq. ft. building for Anna's Bananas. The scope of work includes both interior and exterior work. Exterior work to include painted and cultured stone veneer finishes, as well as decorative fencing and gates to enclose lot. Interior work to include demo work of walls, doors, etc., with new framing, drywall and paint.Tongue and groove wood paneling on ceiling foyer and wainscot & chair rails along the hallway from end to end. Fireplace-like pillar with matching cultured stone veneer finishes along with open decorative beams and column to be added at entrance foyer. New doors/frames and window trims and new maple cabinetry with new changing areas with solid surfaces. Floor finishes to include carpet, VCT and sheet vinyl or vinyl planks. New restrooms will be enlarged to code with ceramic flooring and 5 ft. ceramic wainscot and new fixtures. Also plumbing, HVAC duct work re-routes, etc. as necessary.
Anna's Bananas Northfield Virtual Tour

Special Considerations
APPRO to work with Owner with all city, county, and state daycare center and food service requirements and considerations.
Services Provided
Complete design build work by APPRO.
Site selection by CERRON Commercial Properties.
If you'd like more information about starting a similar project of your own, start by understanding financing by downloading our checklist here: