Dakota County Community Helps Local Farmington Students Surpass Fundraising Goal!
Dakota County businesses, APPRO and CERRON, are excited to announce that our local shoe drive was a huge success! Our local Dakota County community answered the call to donate shoes for an international not-for-profit organization, Soles4Souls (see recent blog article HERE). Farmington High School Students, Sydney Bockelman, Jacqueline Smithson, Andrew Lupowski, and fellow students involved in the Youth Development group, set a goal to collect 1,000 pairs of shoes for this 2nd annual event. The group was eager to share that they were able to collect 1,467 pairs of shoes, with 143 pairs collected from the APPRO and CERRON collection site (and a $200 cash donation). The Dakota County community was eager to help for this event. The APPRO and CERRON team also donated 450 cans of food to go to the local food shelf in connection with 360 Communities.
The students processed the shoes to be sent to the Soles4Souls regional collection site at a student lock-in – an annual event called "Games for Change". At this event, the students play games like Volleyball and Dodgeball, and then spend time devoted to the non-profit work including Soles4Souls, 360 Communties, and making 500 peanut butter sandwiches for area youth.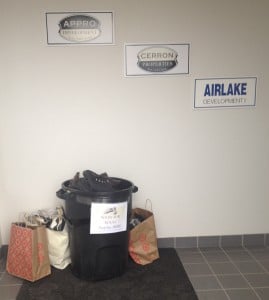 The team at APPRO and CERRON was thrilled help support these local students in some small way and applauds all their hard work to help make both our local and global community a better place in which to live, learn, work and ideally to thrive! Way to go Farmington High School students!!
The Youth Development group was featured on WCCO news, you may see their website here(scroll down to find the Games for Change story).