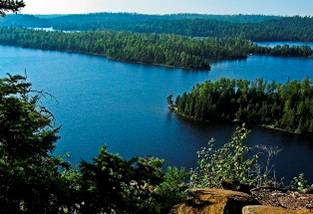 Minnesota attractions visited by thousands of visitors to Minnesota every year are certain to be the Minnesota tourist attractions you will want to explore as well.
The one "all encompassing" attraction in Minnesota is the beautiful setting in which all other Minnesota attractions are located.
The lovely, and plentiful, lakes, winding rivers, dense forests, prarieland, bluff country and rolling farmland offer a most diverse experience for travelers in Minnesota.
Attractions By City
The Boundary Waters Canoe Area Wilderness is located in the Superior National Forest in northeastern Minnesota. It is nearly 1.3 million acres in size and extends for nearly 150 miles along the boundary with Canada's Quetico Provincial Park with Voyageurs National Park on the west. You will find more than 1200 miles of canoe routes, 15 hiking trails and approximately 2000 campsites. There is no more attractive spot in Minnesota to experience solitude, challenge and up-close interaction with with nature. A crown jewel of Minnesota attractions.
Minnesota's "inland sea" is a prime vacation destination. Duluth is the gateway to the North Shore and a wonderful attraction on its own. Walk along the lakewalk on the shore of Lake Superior. Watch the aerial lift bridge and the ships as they come and go. Take a harbor cruise, enjoy the IMAX Theater and visit the Aquarium. Stay in a Duluth hotel right in Canal Park and explore the many shops and restuarants. Continue on up the Lake Superior North Shore or take the Lake Superior Circle Tour to further explore this wonderful Minnesota attraction.
There are 66 beautiful Minnesota State Parks located in all areas of the state. Here are some peeks at just a few:
Banning State Park is located near Sandstone and Askov about 2 hours north of the Twin Cities area. The park is alongside the Kettle River and connects to the Willard Munger State Trail. The park is a haven for birds and wildlife. It is a wonderful spot for camping, biking, hiking, and cross country skiing.
Blue Mounds State Park is located in southwwestern Minnesota and offers excellent rock climbing opportunities. Mound Lake offers swimming and a picnic area located on shore. There are three campground loops located near a wildlife viewing pond. Campsites also available in the winter. Thirteen miles of winter hiking trails and twenty miles of snowmobile trail are available within 10 miles of the park.
Itasca State Park is located amid huge stands of red…or Norway…pines and is the birthplace of the Mississippi River
Check out our Minnesota State Parks Reviews page where you can share stories and photos of your state parks adventures.