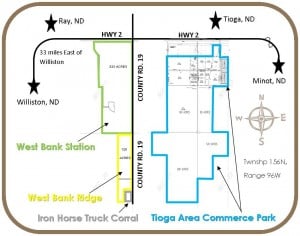 North Dakota land opportunities abound and APPRO Development and CERRON Commercial Properties have been working in the Williams County area of the Bakken Formation on a few exciting development projects between Ray and Tioga, ND.
The first is the Tioga Area Commerce Park (TACP) which is located just off the southeast corner of HWY 2 and CR-19 (109th St E). This development was established in 2011 and is an excellent location for your commercial or industrial business. Lot sizes vary from 3 Acre to 160 Acres in size and have been selling at a rapid pace.
The second development, West Bank Station (WBS) is located on the southwest intersection of Hwy 2 and CR-19, between Ray and Tioga, North Dakota. This development includes 333 Total Acres which is comprised of 225 Acres of Commercial with lot sizes ranging from 5 to 50 Acre Commercial Lots and features a multiple turn lane intersection.
The final development, West Bank Ridge (WBR) is located just south of West Bank Ridge. This residential development includes 25 Single Family Lots, ranging in size from 1 to 2.82 Acre Single Family Lots and 146 Mobile Home Lots.
North Dakota building continues to lead headline news. See attached articles pertaining to housing boom in North Dakota's Williams County: NorthDakotaLeadsArticle.
CERRON Commercial Properties is proud to market each of these properties for sale.
For more information on getting involved in North Dakota land opportunities to purchase, development, or building opportunities in the heart of the Bakken Formation, please contact Daniel Madrigal at 612-418-9986 or by filling out the contact form below:
[form danm]