Bloomington Office Warehouse: Richfield Plumbing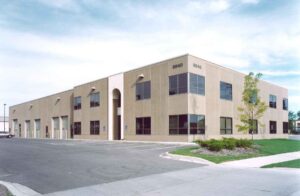 A new Bloomington Office Warehouse for Richfield Plumbing (Adelmann Building) consists of a 19,300 sq. ft. facility located in Richfield, Minnesota. The building design for this commercial project incorporates both warehouse and office lease spaces. The open two-story office area provides ample light and lofty space with separate but shared entry to provide multiple options for lease space by tenants. Precast concrete wall panel exterior walls with a stucco accentuated entry provides a long lasting, durable exterior surface and complementary architectural design.
Lease space availability can be found through sister company, CERRON Commercial Properties: AVAILABILITY.
If you are currently looking for office warehouse space in the Twin Cities Metro area, the team at APPRO and CERRON Commercial Properties would be glad to help you. Our professional team has been working to provide unique property solutions for our clients since 1987. Whether you are looking to build new, add on or expand on an existing space, APPRO can assist you in these commercial property solutions. If you are looking to buy, sell or lease commercial space, CERRON Commercial Properties is able to create a property solution to meet your specific needs. Contact our team today!
 Special Considerations
Redevelopment of existing industrial site
Site coordination to allow for truck access through project site to adjoining parcel
Close proximity to existing residential neighborhood
Services Provided
Complete design build package including site development and redevelopment activities.
Facilitated leasing and construction of tenant spaces on second floor.
Served in the roll of Architect and General Contractor.
Want to know more about starting a new Office Warehouse Project of your own? If financing your project, start with our easy and informative Financing Checklist…