Twin Cities Land Development: Creekside Business Park, Lakeville, MN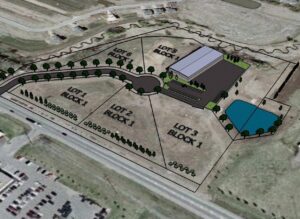 TWIN CITIES LAND DEVELOPMENT PROJECT DESCRIPTION
A 14.6 acre site, platted into 6 lots (up to 4.91 acres in size) surrounding  a 660 ft cul-de-sac and is located adjacent to the 2nd largest business park in Minnesota.
SPECIAL CONSIDERATIONS:
Lots available for development
Sedimentation and infiltration ponds required due to adjacent South Creek.
Utilities to site and Fully landscaped
All sites designed to accommodate truck docks and drive-in capabilities.
Outside storage permissible.
SERVICES PROVIDED:   
Marketing of lots available for sale
Site development, platting, zoning and city negotiation
Assistance with City, County, and DNR compliance and permit processes
Complete Design / Build packages available
Construction Management
---
You may also have interest in the following links:
Please let us know how we can help you with your next Property Solution.