Local General Contractor APPRO Completes Another Project for Local Food Production Facility
Local general contractor works to complete local food production facility located in Lakeville, MN has been the site of numerous industrial construction projects in which APPRO has acted as a local general contractor.
Most recently a 27,700 SF warehouse expansion designed to accommodate high storage, flow thru racks for maximum storage density of finished food products.  35' clear height in the new space. Project planning included 16 dock doors, room for onsite trailer storage, traffic flow thru the site, and related alterations to the existing building. APPRO has completed numerous additions and renovations throughout the history of the building.
Looking to stay in the loop on construction activity in Minnesota? Sign up for our E-Newsletter for industrial and commercial construction information – this newsletter is published monthly and brings you the news you need as a business and/or commercial property owner.
Special Considerations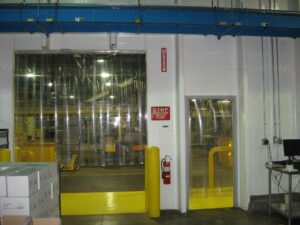 Full Design Build role
Worked with City for vacation of easements and permitting
Provided cost alternative options
Coordination of Owner's equipment
Civil, structural, mechanical and electric engineered package of construction drawings
Cost segregation
Services Provided
Match the existing building's appearance
Food grade interior environment
Close proximity to protected waterway
Relocation of existing public and private underground utilities
Truck traffic routing
ESFR fire protection sprinklers
Very- Flat concrete floors
Specific owner supplied CAD standards
Want to know more about working with a local general contractor for your production facility? If financing your project, start with our easy and informative Financing Checklist…