MN Vet Clinic Construction Complete for  Southfork Animal Hospital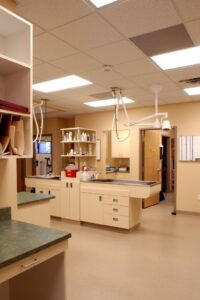 Mn Vet Clinic Construction is complete! This project consists of a 4,100 sq. ft. veterinary clinic and hospital in Lakeville, Minnesota. Single story structure with wood framing. The plan incorporated the latest in animal hospital design features.
Want to know more about Southfork Animal Hospital? View their website HERE.
APPRO Development and its expert team is driven to provide comprehensive property solutions for each and every one of their clients. How can we help you to meet (if not, exceed!) your goals and expectations? Contact our team of professionals to get your questions answered.
Special Considerations
Platting of lot and conditional use permit
Incorporation of owner provided equipment elements
Multiple HVAC zones, separation of animal kennel areas
Dormers with light wells to introduce natural light into center spaces
Services Provided
Complete design build package.  Served in the roll of Architect and General Contractor.
If you'd like more information about starting a similar project of your own, start by understanding financing by downloading our checklist here: