New Office – Lakeville, MN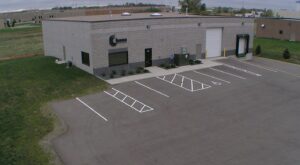 A new office, manufacturing, and storage building for Bass Flexible Packaging, a small plastics business. Phase one building size of 6,840 SF. The site was designed to make maximum use of the buildable area. The exterior consists of insulated masonry walls. The single story structure incorporates fire sprinklers and high capacity electrical system for plastics equipment.
Bass Flexible Packing HQ are located in the Airlake Industrial Park: "Bass Flexible Packaging, Inc., was established in 1998. In the beginning, we provided printed and plain polypropylene bags to select distributors. As our company grew and customer requests flowed in, we branched out to include PVC shrinkable materials, including shrink bags, as well as shrink bands and roll stock. Today, we ship our quality products nation and worldwide. Our bilingual staff is always ready to assist international customers."
APPRO Development has been helping companies like Bass Flexible Packaging for more than 25 years. Let our expert team work to find the ideal property solution for you and your team!
Special Considerations
Future Expansion
Close Proximity to protected waterway
Dictated special excavation procedures
No access to rear of site dictated mixed truck and auto traffic at front of building
Dock and drive in door access
Services Provided
Full design-build services
Assistance with equipment layouts
Site design with future expansion incorporated
Storm water site design next to protected waterway
Want to know more about starting a New Office, Manufacturing & Storage Project of your own? If financing your project, start with our easy and informative Financing Checklist…