One Story Commercial Building for Technical Methods, Inc.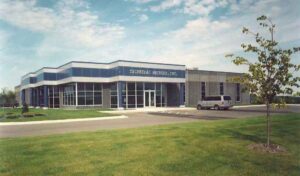 This completed building project is a one story commercial building with 25,000 square feet located in Lakeville, Minnesota. This project was a new building for a foundry pattern maker with a machinist division. Building construction consists of a poured concrete slab on grade floor, precolored concrete wall panels, a steel bar joist roof structure and a built-up roofing system.
Technical Methods is a full service pattern shop and you can learn more about their company and capabilities HERE.
APPRO Development, Inc. is a local commercial general contractor with 25 years of experience in land selection, site development, platting, permitting, competitive bidding, project management, fast track construction, financial reporting, tenant improvements, remodeling and additions/expansions, to name just a few of our many capabilities. We strive to create a unique property solution to meet your specific needs.
Contact Us today to find out how easy the process can be!
Special Considerations
Entire building air conditioned
Coordination of compressed air system, dust collection system, and electrical distribution
Building design was subject to neighborhood design review committee
Tax increment financing incorporated into project
Services Provided
Complete design build package
Research expansion capabilities at original facility
Assistance with site selection for new facility
Organize, identify ability for owner to acquire tax increment financing
Served in the role of Architect and General Contractor
Want to know more about starting a new one story commercial building Project of your own? If financing your project, start with our easy and informative Financing Checklist…