ONSITE ENGINEERING, PRIOR LAKE, MN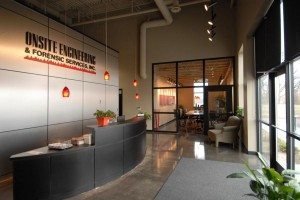 ONSITE ENGINEERING consists of a new 8,000 sq. ft. office/warehouse for a growing forensic engineering company located in Prior Lake, Minnesota.  Insulated precast concrete wall panels with steel roof structure exposed and painted for a "techy" look and feel.
Special Considerations
Open office plan and two exam rooms for destructive engineering
Storage for litigious evidence
Plan for future expansion
Special air handling consideration for 'soot' control
Services Provided
Complete build to suit package with site cost analysis and acquisition.  Served in the roll or Architect and General Contractor.
Want to know more about starting a new Office Production Facility Project of your own? If financing your project, start with our easy and informative Financing Checklist…