RYT-WAY INDUSTRIES, LAKEVILLE, MN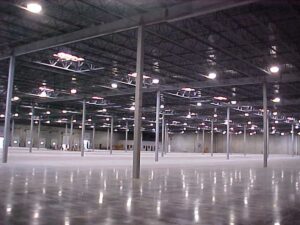 RYT-WAY INDUSTRIES is a 173,622 sq. ft. addition to the existing corporate offices and warehouse plant #1 located in Lakeville, Minnesota.  The addition included 171,640 sq. ft. of warehouse space and a 1,982 sq. ft. trucker's lounge.  The warehouse addition included (12) dock doors with dock levelers.  The truckers lounge included a Manager and Dispatch office, training/lunchroom, QA lab, and trucker's waiting area with adjacent restrooms.
Special Considerations
The truckers lounge area was designed with a mezzanine above that can be used for storage or future expansion of the truckers lounge offices.  An enclosed walkway between the new warehouse and an existing storage building was also constructed.
The buildings structure consisted of precast wall panels with a finish to match the wall panels on the existing building, interior steel beam and columns with metal bar joist and a metal deck roof system.
Services Provided
Specialized warehouse racking layouts for initial and future warehouse operations
Fire sprinklers and smoke evacuation systems designed to accommodate high piled racking and warehouse storage
Want to know more about starting a new Corporate Office and Warehouse commercial construction Project of your own? If financing your project, start with our easy and informative Financing Checklist…