ICSC Hosts Four Members of Congress at RECon – to Learn More about the Retail Real Estate Industry
ICSC – (International Council of Shopping Centers) mission is "to advance the shopping center industry and to promote its role in the commercial distribution of consumer goods and services."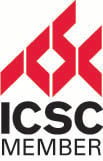 ICSC's annual RECon event in Las Vegas, welcomed four members of Congress, who attended to learn more about the retail real estate industry and share their insight on the tax reform debate currently underway on Capitol Hill. House Majority Leader Eric Cantor (R-VA), Congressmen Richard Neal (D-MA), Jim Renacci (R-OH) and Steve Womack (R-AR) each took a tour of the show floor and met with ICSC members to hear about issues impacting their businesses. All were impressed with the size of the show and level of business activity taking place.
On May 18, Reps. Neal, Renacci and Womack participated in a panel discussion on tax reform. They explained that while ideas are still being discussed within each party, now is a critical time for ICSC members to talk to members of Congress about provisions that are central to the retail real estate industry, such as capital gains treatment, the ability to deduct the interest on commercial debt or the like-kind exchange rules. During the Q&A session, ICSC members expressed their concern about having a repeat of the 1986 Tax Reform Act that devastated the retail real estate industry. The congressmen encouraged ICSC members to meet with both their legislators and staff to share examples of how different components of the tax code are used in actual projects and how the elimination of certain incentives would have impacted those projects. Such efforts will make those tax provisions more tangible to legislative offices.
Roz Peterson is a retail real estate professional who is an active member of the International Council of Shopping Centers (ICSC), and a licensed commercial real estate sales person with CERRON Commercial Properties. Roz has been in the commercial real estate business since 1990 and worked as an agent since 2006. She specializes in the south metro Twin Cities market across all product types, conducting Landlord Representation, Tenant Representation, Sales, Lease and Broker Price Opinions. Roz is a member of MSCA, ICSC, CCIM Minnesota-Dakotas Chapter, MNCAR, MNAR, NAR, Apple Valley, Burnsville, Dakota County Regional and Lakeville Area Chambers of Commerce, and is a CCIM (Certified Commercial Investment Member).
To contact Roz, please complete the following information