The MN State Fair Starts Thursday, August 22nd and there is a whole lot lined up!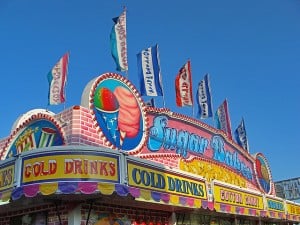 It is Minnesota State Fair time and it is really all about the food, right? I mean the Miracle of Birth barn is pretty cool and the Blue Ribbon winning Holstein is interesting, as is the latest 4-H exhibit or the music blaring from the bandstand. But, when it comes down to it – we go for the food!
This year, 2013, just when you thought they couldn't possibly figure out a way to get one more food on a stick or come up with something else new, our local Twin Cities' restaurants & resident "foodies" have come up with some amazing new foods to test and savor.
So, here is my Top Ten Food List I plan to eat (or try for the first time) at the 2013 Great Minnesota Get Together:
10. Chocolate Chili Ice Cream (sweet, spicy, hot, cold, yum!)
9. Candied Bacon Cannoli (anything with bacon!)
8. Fried Pickles and Chocolate (because my kids dared me)
7. Grilled Glazed Donut (anything on the grill!)
6. Dough-sant (the cousin of the NY "Cro-nut" – a hybrid of doughnut and croissant)
5. Comet Corn (A futuristic caramel corn made with liquid nitrogen – because it's cool!)
4. Bacon-wrapped grilled shrimp on a stick (because it's on a stick!)
3. MinnePumpkin Pie (a hometown treat)
2. Persian Kabob Koobideh (to expand my horizons)
1. Cheese Curds (why mess with a tried and true classic!?)
To review the full list of new foods in 2013 at the MN State Fair, click on the following link to see all the new foods at the fair: 2013 MN State Fair Food List.
And, for details on visiting the MN State Fair, click HERE, to link to the dates, times, fees, and discount information to make your day great!
At APPRO and CERRON, we are proud to be a Minnesota company, providing property solution services across the Midwest. Don't just take a chance on bumping into each other while we are testing the latest food on a stick; Do the "sure thing" and give us a call. Let us show you how we put all that energy to work for you and what makes our team different. Now, go enjoy the MN State Fair!