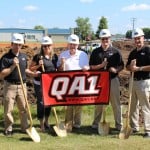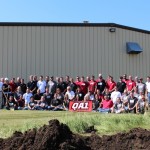 Lakeville Industrial Warehouse Building Expansion Project Breaks Ground with APPRO Development and CERRON Commercial Properties helping QA1 to celebrate an official groundbreaking for the addition of a 17,200 sq. ft. warehouse. The new addition will expand their existing space to accommodate QA1's growing business.
The entire QA1 team was joined by a few of the APPRO and CERRON team members to participate in the official groundbreaking ceremony. Everyone at QA1 is looking forward to the added space this new expansion will provide. More information about the ceremony can be found on QA1's news page by clicking on the following link: QA1 NEWS. Additionally, if you are interested in learning more about QA1, located in Lakeville, MN, you may visit their website at: www.QA1.net.
Looking for more information or ideas for your growing business? Feel free to contact our design team for a no obligation appointment to discuss your needs and ideas.