Healthy Work Environment Design Ideas Help Employers, Employees and the Environment!
Showers at work??? Creating a "lounge feeling" in the business place???
What would make the cost for such employee "luxuries" worth the investment?
Boosting employee morale, reducing turnover, encouraging healthier employees, and
making bicycling to work a feasible option…that's why it's worth the investment!
There are some simple changes you can do as a business owner to help make the work environment more comfortable for your employees, and in turn more profitable for you! Employee turnover and healthcare costs are huge expenses, so focusing on employee retention and health, are constantly desired goals.
What are some things you can do to create a healthy work environment for your current facility or office, or consider when acquiring a new space??? Here's a list of a few easy, or relatively easy changes:
Lighting – "A dreary office lacking light and color can cause depression and a lack of motivation. Brighten up the space with a soothing paint job, green plants, and tasteful artwork. If it is not possible to fix up the environment (i.e. a warehouse or factory), make sure you offer adequate breaks and a break room where employees can relax, eat, and rest." (As noted on WikiHow's website article, "How to Improve Employee Morale".)
As simple as it may be, a fresh coat of cheery paint or changing the type of bulbs you currently use can have a HUGE impact on your employees' comfort and productivity! "The quality of lighting in a workplace can have a significant effect on productivity. With adequate lighting workers can produce more products with fewer mistakes, which can lead to a 10-50 % increase in productivity. Good lighting can decrease errors by 30-60% as well as decrease eye-strain and the headaches, nausea, and neck pain which often accompany eyestrain. Adequate lighting allows workers to concentrate better on their work which increases productivity." (As noted in "Lighting in the Workplace".)
Shower facilities – The CDC encourages employers to get on board with healthy work environments by encouraging physical activity! "Worksite campus design encourages incorporating physical activity into daily routines. Encouraging employee physical activity on-site can include building safe walking trails or paths on the company campus, installing showers for joggers and exercisers, and installing gyms with aerobic and weight training equipment…"
Keep it simple & let your employees provide their own towels & soap. All you have to do is provide a clean shower with warm water and lockers for your employees to keep their own supplies in!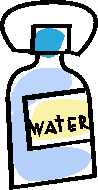 Water bottle refill station – Here's another quick improvement to your workplace – install a water bottle refill station and you will obtain several benefits!
Increase water consumption to improve employees' alertness, concentration, performance AND safety! Learn more at http://www.naturalhydrationcouncil.org.uk/wp- content/uploads/2012/06/Hydration-at-Work.pdf
Reduce waste – refillable/reusable bottles are better for the environment
$ saved – less trash = less waste management fees
Idea: Occasionally provide lemons or limes for your employees to add to their water – an easy way to treat your employees and show that you care!
Click HERE to see an example of the water bottle refill stations for both indoors and out.
Bike Racks – Another bonus to installing showers is that it encourages employees to ride their bike to work, which along with the obvious health benefits, reduces auto-emissions and the amount of traffic in your parking lots. Help keep your employees' bikes safe while they work by providing a "bike commuters' station" – a well designed rack is all you really need, but going an extra step to put in a concrete pad and adequate lighting would look nice, or go all out and install a canopy over the bike racks to protect the bikes from sun damage or rain.
A great resource for understanding why and how employee health is so important is, "Healthy Workforce 2010 and Beyond… An essential health promotion sourcebook for both large and small employers" written by Partnership for Prevention and the Labor, Immigration & Employee Benefits Division – U.S. Chamber of Commerce, where they state:
"…organizations need to view employee health as a productivity strategy rather than as an exercise in health care cost management. Over the past decade, the emerging discipline of Health and Productivity Management (HPM) has shown that health and productivity are 'inextricably linked' and that a healthy workforce leads to a healthy bottom line."
Take a look around your office or workplace; if you have one employee or one thousand, it's up to you to decide if a small expense upfront is worth years of money saved. We are here to help you make the improvements needed to improve your workplace and to help conserve your bottom line. Please contact us to discuss making your workplace one that helps to retain employees and benefits you!