Exceptional Business Woman Dakota County Award 2014 – Awarded to Roz Peterson
Roz Peterson, CERRON Commercial Properties
Roz Peterson has been awarded an Exceptional Business Woman Dakota County Award and the entire team at CERRON Commercial Properties and APPRO Development couldn't be more proud!
Roz is a passionate and talented sales and leasing agent for CERRON, with a focus on office and retail properties, in the South of the River region of Minnesota. Roz has a knack for building strong relationships with clients and delivering superior service that not only meets, but exceeds clients' expectations. In addition to her success in commercial real estate and business ownership, Roz has also devoted herself to her community. She has been involved in many local organizations – the Dakota County Regional Chamber of Commerce, the Lakeville Foundation and the Lakeville School Board, just to name a few.
We are very proud of Roz and her accomplishments and thrilled for her, as she is such a valued part of our team.
The 5th Annual Exceptional Businesswomen Recognition Banquet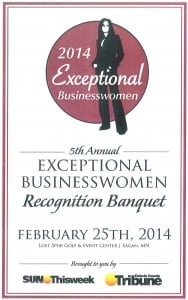 Roz and nine (9) additional Exceptional Businesswomen received recognition at a Banquet at the Lost Spur Golf & Event Center in Eagan, on the morning of Tuesday, February 25th. In addition to a breakfast reception, each recipient received a plaque, and were part of a panel discussion, moderated by Catherine Byers Breet, owner of ARBEZ (an online job hunt coaching system).
Among our favorite words of wisdom, were the following quotes and comments from the some of the award recipients:
It is important to love what you do. I am surrounded by a great team and enjoy the people I work with. -Karen DeVaughn, Life Wellness Center, Lakeville & Eagan
Having cheerleaders and strong supporters in your career can make a world of difference. -Audrey Aronson Johnson, Johnson Companies, Lakeville
I am able to help people every day. I only wish that one day there wasn't a need for what I do; when there is no need to fundraise for cancer because a cure has been found. -Kari Mitchell, Charity Events of Minnesota, Rosemount
Three things are necessary to be successful in life: 1. Order: bring order to your life, outsource/delegate so that you can focus on what matters; 2. Organize: surround yourself with the right people; having a great team around you can make all the difference; and, 3. Prioritize: make decisions on the actions you take, based on your values. -Roz Peterson, CERRON Commercial Properties, Lakeville
"Google me!" (her reputation speaks for itself, as she received countless unsolicited reviews, increasing her client base) and to have a positive attitude, work hard, and send thank you's, regardless of the outcome. -Linda Radue, Burnsville Volkswagen, Burnsville
Have a vision statement upon which your team can rally around. Be proactive in looking for solutions in your business. "What is your paper?" (as a reduction in paper sales impacted many other product lines in their industry, they have found it necessary to create new opportunities in their industry). -Jennifer Smith, Innovative Office Solutions, Burnsville
Assess your interests and talents and then go put them to use. Get involved – If you see something needs to be done, go do it! -Karen Wentworth, HOBO Inc., Lakeville
The event was organized by ECM Publishers and the Dakota County Tribune and Sun Thisweek who did a great job, as well as the many event sponsors who helped to make the morning a great event!
If you would like to learn more about Roz Peterson from our team, you may visit her campaign website, or view her commercial property listings page HERE.
Again, from all of us at APPRO and CERRON – Congratulations Roz and All of the 2014 Exceptional Businesswomen Award Recipients!