Industrial workforce staffing and team solutions were a couple of topics covered at a recent seminar I had the privilege of attending. This event, hosted by MRCI WorkSource at the Rosemount/Senior Living at Steeples Center in Rosemount, Minnesota, is one of eleven planned "Lunch 'n Learn" seminars with the goal of sharing some of their successes in workforce solutions, while introducing their organization to area businesses. A win-win…you've gotta love it!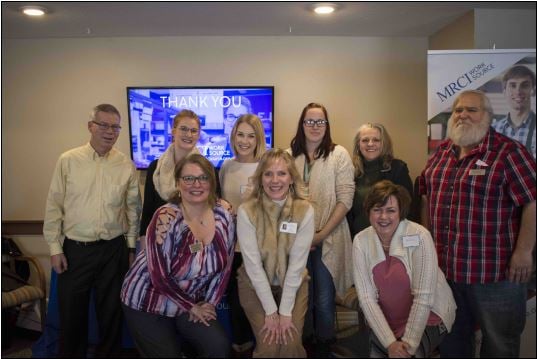 (Photo credit: Nick Cachiaras, Communications Specialist for MRCI)
This seminar was conducted by Rhonda Kalal, Business Development/Marketing Coordinator (shown above, first row left) for MRCI WorkSource. The focus of the talk was how to "Ignite Spark" within your organization. While citing multiple staggering statistics (e.g. 72% of employees are disengaged, many undermining fellow co-workers and the mission of an organization), Rhonda offered multiple solutions to address the majority (95%) of employees' desire to be part of something GREAT. Rhonda expertly shared multiple ideas for creating "spark" and creating an engaged workforce. Something as simple as implementing a Recognition Program to highlight and recognize employee contributions can increase motivation and productivity by 12-23%. Recognition might come in the form of a thank you from a fellow team member, or recognizing an anniversary and dedication to the organization. There were many, many more examples shared for ways to both understand employee motivation and opportunities to "ignite spark" within your organization.
I would highly recommend attending these events. The presentation included opportunities to network with other organization representatives, enjoy a light lunch (maybe even with a dessert with a "sparkler"), and learn about the MRCI mission & ways those in attendance may be able to become involved further.
So, why is APPRO highlighting MRCI? As an architectural designer, builder and broker (CERRON) of industrial, manufacturing and warehousing facilities, we have 30 years of history, working with many amazing companies who may find that the mission of MRCI speaks to their organization's needs for industrial workforce staffing and team solutions. We hope you will consider learning more about their great group of people and opportunities to create some synergies. If you are interested in learning more about workforce solutions through MRCI, CLICK HERE. Also, if you are interested in learning more about attending upcoming Coaching Capacity events (like the one described in this article), CLICK HERE.
MRCI Background: MRCI has multiple locations, including nearby Rosemount and Shakopee, where (according to the MRCI website), they "partner with employers to meet business needs and serve as an ongoing resource in diversity integration. Recruiting processes, technology enhancements, access to education and training, along with financial incentives are making it easier for employers to hire workers with disabilities or disadvantages, especially in partnership with MRCI WorkSource."
Thanks also to Shelly Krueger and her team at The Rosemount – Senior Living at Steeples Center for their hospitality for this Lunch 'n Learn "SPARK" focused event!
---
Feel free to contact our team for commercial or industrial property solutions – we provide services covering: designing, developing, building, buying, selling and leasing activities.
{{cta('d7dfe876-5d8f-459f-88d9-69bf94f31a1c')}}